Design/ Events
Proofing
Billboard
Printing / Installation
Pop Display Materials
Construction/ Kiosk Renovation
Van Wrap
Logo Build-up/ Fabrication
Design/ Fabrication/ Installation
Design/ Events
DESIGN / EVENTS
The Interface between what your target customers see and what you want to convey is GMACs core business. Our traditional and nontraditional printing come in varied forms such as banners, streamers, board-ups, display signs, etc.
Construction Board-Ups
Mall Company Booth / Kios
Corporate Events
Have something in mind you want to advertise but can't quite visualize how? Give us a call and we will present graphic design and installation option for your needs. We also tweak specific designs that you already have in mind.
Proofing
DESIGN / EVENTS
Before production printing using the final design, we provide 'proof' of what the final outcome will look like. Beauty and quality, after all, are in the eyes of the beholder…you, our Customer.
Billboard
Printing / Installation
PRINTING / INSTALLATION
Regardless how and where you want your brand displayed, GMAC Business Developers, Inc can provide the Service.
CUSTOMIZED WALL PAPER BRAND / PRODUCT MURALS
Pop Display Materials
Construction/ Kiosk Renovation
CONSTRUCTION / KIOSK RENOVATION
KIOSK CONSTRUCTION
Van Wrap
Logo Build-up/ Fabrication
LOGO BUILD-UP / FABRICATION
VINYL STICKER CUT SIGN




ACRYLIC LETTER BUILD-UP




LED ELECTRONICS SIGNAGE
Design/ Fabrication/ Installation
DESIGN/ FABRICATION/ INSTALLATION
SIMPLE TRADE SIGNAGE
ACRYLIC LETTER BUILD-UP TRADE SIGNS
LATERAL SIGND WITH POSTS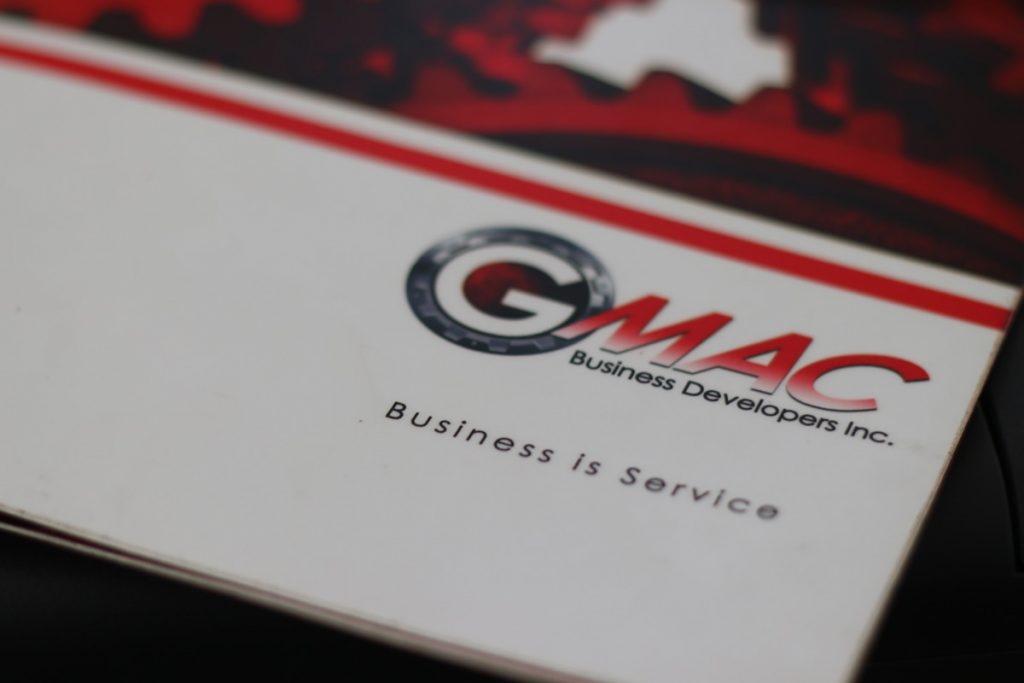 Location
29F Joy Nostalg Center 17 ADB Avenue, Ortigas Center Pasig City, Philippines 1600
Phone
+632 7798 8190
+632 8930 6400 (Telefax)
Email